The arrival of a group of British Muslims to perform Hajj (Islamic pilgrimage) in Saudi Arabia's Medina turned heads this week … because they cycled all the way from England to Saudi Arabia.
The men went on a "Tour de Hajj" – a play on the annual bicycle race "Tour de France" – to convey a better picture of Islam "as a religion of peace and tolerance among the countries they passed through." The cyclers also hoped to use their journey to raise money for charity.
Upon their arrival in the kingdom after 6,500 km, Saudi authorities gave them a warm welcome as they were greeted by the chairman of the Society of Culture and Arts in Medina, Mishaal Al-Touhami.
The "Tour de Hajj" group were also well-received by locals and cycling enthusiasts who threw them a traditional welcome. Of course, as Arab hospitality could never be complete without something to eat and drink, the pilgrims were served Arabian coffee, dates, and Zamzam water.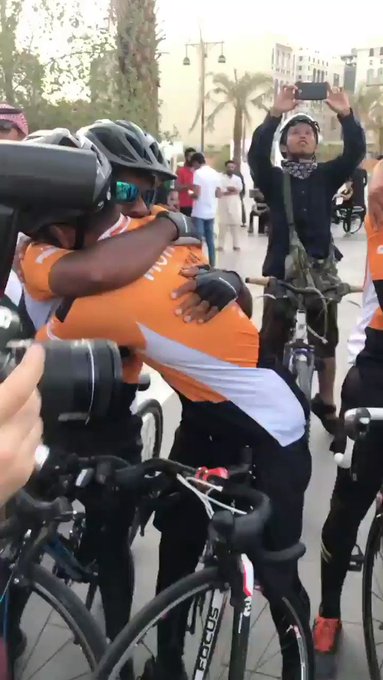 In an interview with Al Arabiya, the group's captain, Taher Hasan Akhtar – a seasoned cyclist who has previously led trips to Mecca for Hajj – shared details of the epic journey.
"The trip was amazing, we came through 17 countries. It's spiritual, beautiful journey," he said.
The British pilgrims were impressed by the warm welcome and lauded the facilities that made it easier for them to arrive for Hajj this year.
According to Saudi Gazette, the men began their journey by visiting Medina to pay homage to Prophet Muhammad, then proceeded to Mecca to visit its holy sites and complete their pilgrimage rites.